Lotteries are one of the earliest forms of gambling ever invented, with the first signs of a genuine lottery recorded back between 205 and 187 BC (keno slips, which are believed to have aided in the finance of major projects such as The Great Wall of China).
Lotteries (which involve the drawing of lots for prizes) come in all different formats, but are typically designed in a way where random numbers (or other icons/results) are drawn, and participants are required to match those random drawings in order to win a prize (generally cash).
Before the World Wide Web was developed, purchasing tickets to participate in lottery games was confined to local news-agency stores and community bingo centres. Today, we can open our laptop or browse our smartphones and participate in lotteries from around the world.
OnlineLottery.com.au is a site built by Australians and for Australians, dedicated to providing accurate and up-to-date information about real money lotteries we can participate in via the convenience of the Internet.
Types of lotteries in Australia
There are numerous lotteries available to play in Australia, from your weekly Saturday state-sponsored lottos, to your instant scratch-card style lottery games which can be purchased at participating outlets or can be played at online casinos. Below is a brief outline of the available lottos Australians can play: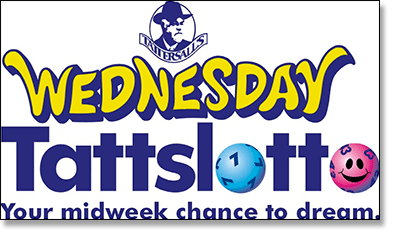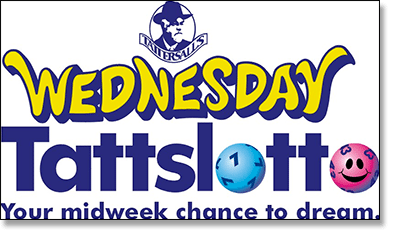 Saturday, Monday and Wednesday Lotto – Owned by Tatts Group Limited, these weekly lottos are syndicated around Australia, to all state and territories. Participants choose six numbers from 1 – 45 and must match at least three numbers in order to win a prize. The Saturday lottery is branded Gold Lotto in Queensland, X Lotto in South Australia, and Tattslotto in the ACT, Northern Territory, Victoria and Tasmania.
Oz Lotto – Also owned by Tatts Group Limited, this lottery is drawn once every Tuesday night and is played across Australia. Players pick a total of seven numbers from 1 -45 (five main and two supplementary) and must match at least four main numbers, or a combination of main numbers and both supplementary numbers to win a prize.
Powerball – Owned by Tatts, Powerball is based on the American lottery game of the same name. Players select six main numbers from 1 – 40, and one Powerball number from 1 – 20. Six numbers are drawn from the pool of balls numbered 1 – 40, and then one Powerball number is drawn from the pool of balls numbered 1 – 20. Match at least three of your chosen numbers to win a prize.
Super 66 – Super 66 is a product of Tatts and is usually played in conjunction with the Monday, Wednesday and Saturday Lotto (as an add-on game). Players pick a six-digit number, and to win a prize, must match at least the first two or final two digits of the six-digit number drawn, in order. For example, the number 123456 is chosen. Winning combinations would include six digit drawn numbers like: 12xxxx or xxxx56, 123xxx or xxx456, 1234xx or xx3456, 12345x or x23456, and 123456 (jackpot). This game is played in all states and territories except NSW.


Lotto Strike – Instead of Super 66, NSW plays host to Lotto Strike, a similar style game to Super 66, but instead of a six-digit number, the numbers which must be matched are the first four digits drawn of the Monday, Wednesday or Saturday Lotto (player must purchase Monday, Wednesday or Saturday Lotto ticket to partake in Lotto Strike). To win a prize, a player must match at least one of his or her selected numbers in the same position as the winning numbers drawn. For example, if the players four number are 30, 12, 8 and 24, and the drawn numbers are 5, 40, 8, 24, 13 and 37, the player would win the prize division "Strike Two".
Lucky Lotteries – These lotteries work just like a typical raffle draw, where you purchase tickets which have allocated numbers. There is a certain amount of tickets available within each lottery, usually in the low six figure range, and once all ticket are sold, the draw takes place. There is a $2 jackpot Lucky Lottery and a $5 jackpot Lucky Lottery, both administered by NSW Lotteries. If your ticket number is drawn, you win a set prize. Prizes are awarded to first, second and third drawings, along with some smaller consolation prizes.
Soccer Pools – Based on real results from Australian, European and other soccer games across the globe, this lotto takes place every Saturday. 38 pre-selected games are numbered 1 – 38, and the participating players all must select six numbers from 1 -38. In order to determine the winning numbers, all matches are ranked according to set rules: draws rank the highest, then away wins, followed by home wins. The top six highest-ranking matches are selected, and there corresponding numbers determine the winning numbers. The seventh highest-ranking match (and its number) is used as a supplementary number).
Keno – Keno games are another types of lottery, and such games are run all across Australia, by state-sponsored lottery organisations such as South Australia Lotteries, as well as publicly listed companies such as Tabcorp Holdings – one of the largest wagering, gaming and Keno operators in the world. Tabcorp Holdings' games are played within brick and mortar casinos and gamin venues in Queensland, NSW and Victoria. Skycity Darwin also hosts land-based keno games for Northern territory residents.
With all games using a pre-set payout table for matching a certain amount of numbers (all games use different payout rates), player will typically pick one to 15 different numbers from 1 – 80. The game then randomly draws 20 numbers from the 1 – 80 group of numbers, and the more you match, the more you win. Keno can also be played at Australian dollar online casinos which have the added benefit of superior player odds, when compared to land-based games.
Instant scratchies – Instant scratch cards can be purchased at local news-agency stores which also sell lottery tickets. These are small cards which anyone over 18 years of age can buy, and instantly scratch away the hiding icons to see if they are a winner. Typically three matching icons will win you a prize. Also known as scratchies, this form of gambling can also be played at real money online casinos, and is far more entertaining at such sites, with different themes available, and huge prizes up for grabs.
Bingo – Also considered a type of lottery game, bingo is a favourite past-time for many Australians, with games hosted around the country at sport centres, community halls and other communal venues. However, with the advent of online gambling, bingo is now not just reserved for old ladies. Real money communal bingo games are available at secure, multiplayer sites and can be enjoyed by all Australians 18 years and older. Electronic bingo is also available at online and mobile casinos.
How to play lotteries online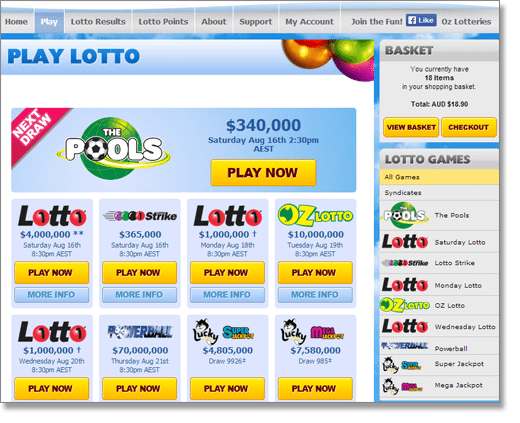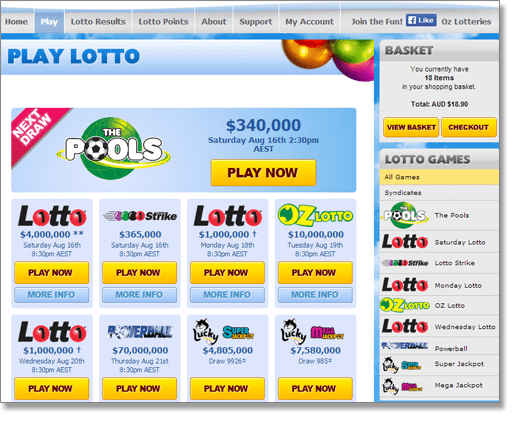 To participate in the lotteries detailed above online, players should register an account with OzLotteries.com – the exclusive Internet distributor of Australian lottery tickets. OzLotteries offers tickets to the following games, for all Australian residents, regardless of where the lottery is actually held:
Saturday, Monday and Wednesday Lotto
Oz Lotto
Powerball
Lotto Strike
Lucky Lotteries
The Soccer Pools
Sign up through our links at OzLotteries.com and you'll receive one free game on us.
To enjoy real money keno, instant scratchies and bingo games, we recommend registering accounts at regulated and licensed online casinos and dedicated community bingo sites such as:
(I'll let you fill in the online casinos, as I'm not sure which one we wish to use).
Make sure to check out each online casino's welcome bonuses, player promotions, daily, weekly and monthly tournaments and competitions.
Safely depositing and withdrawing Australian currency
At OzLotteries.com, the community bingo sites and our endorsed online casinos, Australian players can deposit AUD currency via several secure methods, such as Visa and MasterCard credit and debit cards, e-wallets like PayPal, Neteller, ecoPayz and Skrill, pre-paid vouchers and cards such as Ukash and Paysafecard, and direct bank transfers. All financial transactions are protected with a minimum of 128-bit secure socket layer digital encryption technology.
While most deposits are instantaneous, withdrawals can take up to 48 hours to be processed, however many gaming platforms are working with fast-speed withdrawals, so check which methods are compatible with same-day withdrawals.
Online lottery legalities and support
All the online gaming platforms we recommend to pursue real money lottery games are regulated, registered and licensed by gaming authorities and commissions. It is completely legal for Australians to access the lottery services provided by these operators. If you have any questions about how to buy lotto tickets, how to play certain games or any other lottery-related queries, you can get in touch with the operators via one of several means, such as live chat, toll-free phone numbers, email and iMessage.
If you wish to get in touch with the team at OnlineLottery.com.au, feel free to drop us a line in the comments section and we will endeavour to reply to your questions as soon as possible. Enjoy browsing the content on this site.